Surrounded by nature and sea-life
'Lådfabriken' is situated just outside Edshultshall, a picturesque fishermen's village with two small harbours and home to 32 wooden houses and 94 boats. Stroll along the rocky beaches and enjoy the excitement of finding fresh and tasty oysters or mussels. Sit down in between the rocks that have been there for over 50,000 years.
The island Orust is Sweden's third largest island. It lies in the middle of Bohuslän's coastal area that stretches from Gothenburg until the Norwegian borders. The coast is dotted with darling fishing villages and is world-famous for its succulent, fresh seafood. This part is referred to as the sun coast since this part of Sweden registers on average the most hours of sun. The area is incredibly rich in history, culture and nature.
Fishing, agriculture, boat building and shipping are the industries that represent modern day Orust and its landscape. Yachts and boats are manufactured here of famous brands such as Hallberg Rassy, Nayad, Nord West and Malö. You may find forests, lakes and fields and some breathtaking natural sites. The vegetation is rich and varied, birds are all around and the many species of animals vary from fox to seal and from deer to crab.
CNN Traveler included the Bohuslän coast on its list of '10 of the worlds last great wilderness areas'
The seascape environment here is as spectacular as it is accessible. And what you get here are mostly calm, sheltered waters for paddlers of all skill levels. There are no strong currents or tides. The coastal line is shaped with creeks, bays, fjords, barren islands, rocky inlets and reefs; the rocks are smoothly polished by the seawater and covered in flowers in springtime. Most of the hundreds of islands that form the reef coast are uninhabited. On some of the bigger islands you will find picturesque villages with harbours that have retained their original charm alongside the newly developed seaside resorts and marinas.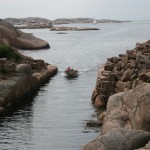 Most destinations offer countless sportive maritime activities, fantastic nature and an abundance of (shell) fish delicacies. A lot of people also visit Bohuslän in search of gastronomic experiences. With the delicacies of the sea, freshly caught fish, crabs, crayfish, oysters, lobsters, mussels and more, this is as good as it gets.