An optimal holiday here at Lådfabriken consists of 1) our special accommodation 2) our personal service, and above all 3) the surrounding environment! Here you will find suggestions for activities near and far from Lådfabriken. Every day is unique in every season.
---
discover our garden and the beach nearby
---
Lådfabrikens entire ground is overlooking the sea and shows Johan's great gardening interest. Quite an achievement when you consider that the winds can be salty and harsh. Take a look at this page: 'flowers'. Lådfabriken is surrounded by an overwhelming number of flowers, plants and special trees. The most interesting trees are the peach, walnut and almond tree. Shrubs with raspberries, gooseberries, blueberries and various currants guarantee homemade jams for breakfast. As long as possible, there are fresh flowers next to the bed in each room. Even in winter there are beautiful Christmas roses to welcome you
The beach is close, only 30 meters away and here you can enjoy all that the sea, cliffs and beach have to offer. Above all, fresh air, space and ever-changing views of the water, the islands and the sky. Relax, swim around or enjoy the sunsets from the high cliff beside the accommodation. The sea water is shallow, many children have learned to swim here.
---
activities on Orust
---
Fishing: whole year round for all fishermen; the waters here are a year-round resource. Try fishing from the rocks on the shore or from a boat. Or enjoy crab fishing from the pier with the whole family.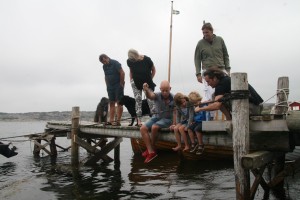 In co-operation with our local partners we offer different fishing activities, like lobster fishing. Click here for our fishing packages and boat tours. 
Cycling: there are many roads that lead to other places and to other islands. We have maps and four bikes to borrow. Packages suitable for those who like to cycle for several days with good meals on the go can be found here bicycle package. 
Kayaking: from Lådfabriken shore you can just sit in one of the four kayaks and glide into the sea. Enjoy the evening sun, seals, and proximity to the sea. You can also participate in activities that we organize during all seasons with our partners.  You can find our kayak packages here. 
Hiking: from the accommodation there are a few walks that take you up on the island. We can help you find the walk that suits you. There are marked trails eg. in Nösund, but there is also Orust Tvärs, the Pigrims Trail along all the churches on Orust. Or to Hermanö, one of the largest national parks in Sweden, with several hiking trails. You can also select a hiking packages that we offer our guests.
Yoga, outdoor activities: with healthy Ayurvedic and Swedish diets and the free nature of West Sweden.  The ingredients for a special retreat that Lådfabriken offered in september 2020. See Yoga & Outdoor retreat packages.
Jogging: from here you can take a run, we have several trails to offer.
Bathing: there are several suitable areas; sandy beaches, small coves and sunny cliffs. In our proximity there are nature baths in Edshultshall, Hälleviksstrand and Mollösund.
(Ferry-) boats: there are opportunities to rent a boat. There are of course ferries that take you in your car (to Malö, Lyr or Stenungssund), or afoot to Härmanö and Käringön, an island you must have visited. If you want to experience the west coast by boat, you may want to plan an islandhopping trip in the Bohuslän archipelago here.
---
activities in the rest of Bohuslän
---
-that we think are worthwile visitng outside Orust-
With the Lousiana Museum of Modern Art in Denmark and Vigeland Park in Oslo, Sculpture in Pilane on Tjörn was named "10 of the best sculpture parks in Europe" by the British The Guardian, 16 May to 20 September 2020.
See exhibitions from all over the world, listen to interesting lectures, enjoy a concert and eat great food while visiting the renowned restaurant Vatten. Open all year, Tuesday – Sunday.
Over 100 fascinating sea creatures in 40 different aquariums. Open all year, all days.
Fortress on the island of Marstrand with exciting history, royal streets and fine walks. Open all year around.
Meet endangered animals in a magnificent setting alongside Åby fiord in Bohuslän. Open every day.
Sweden's second city with an easy-going atmosphere, many cafes, clothing and designer shops within walking distance. The city is proud of its harbor and fishing background and is one of Europe's leading restaurant cities. Visit the Botanical Garden, Röhsska and the Nordic region's largest amusement park, Liseberg.
Bronze Age people have carved thousands of images into the landscape's smooth rocky outcrops. Listed on UNESCO's World Heritage List.
---