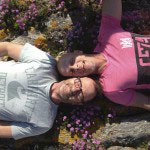 We are Johan Buskqvist and Marcel van der Eng, partners in life and of Lådfabriken. In 2008 we purchased the old factory and rebuilt it between fall 2009 and summer 2012. Johan is Swedish and spent his childhood in this village of his ancestors. Marcel is Dutch and moved from Amsterdam in spring 2010 and started up the business officially opening in May 2013.
Marcel has a background in Marketing & Communication of live entertainment products. (Cirque du Soleil Europe, Hans Klok 'Faster than Magic Tour', 'Happy Didl day', 'A Few Good Men Dancin', Stardust Theatre, Carré Theatre, the opera 'Orfeo & Euridice') Johan is passionate about design, garments and fabrics. He has over 25 years of experience and overall responsibility for the vision, concept and product development of sports- and streetwear. He enjoyed working for companies such as Boomerang, Esprit, Nike, Reebok and Adidas Originals. Johan works partly as a design and strategy consultant on project basis; BSKQV.
Enjoy our personal service and feel at home during your stay in our seaside accommodation. Remember that as a guest, you are staying in a beautiful part of Sweden that we are very fond of. We will do our utmost to make your stay an unforgettable one. It is our philosophy to welcome our guests in a homely and colourful creative atmosphere, in which you will sense the beauty of the natural surroundings as well as the impressive garden, blooming from June to September. We are the proud owners of Agnes and Lucas, that came to us from the Spanish dog shelter Castellbisbal near Barcelona.
In our surrounding we are supportive of all people and their relationships, we are respectful of all people, treat all people equally, and are non-judgmental. Welcome to a unique part of Sweden, our part.
Look at this impression made by Kristina Luna of Camel & Chocolate 
SaveSave
SaveSave
SaveSave