kayaking
Bohuslän has one of the world's finest coastlines to explore. Cool kayaking explorations with pristine national parks, cozy boathouses and wild water. Here you find opportunities to paddle along western Sweden's beautiful coastline on a hot summer day as well as a quiet winter day. Lådfabriken collaborates with Balanspunkten in Grundsund and Upplevelsebolaget in Uddevalla. All tours can be booked via an emailto: info@ladfabriken.eu , the bookings button or with the form at the bottom.
CNN Traveler included the Bohuslän coast on its list of '10 of the world's last great wilderness areas'.
single day tours
Grundsund, explore the archipelago around the island Skaftö with an awesome kayak experience during your summer holiday. Book a stay with us and enjoy a 3 hour kayaking trip the day afer. After a short instruction, you paddle with your guide along the world's finest coastline. The trip starts in Grundsund and is based on weather, the participant's needs and experience. The group is never too big. From April to September.
Included in the kayak package: a 3 hour guided kayak trip, a lunch bag with wraps, beverages, fruit and snacks. A 3-course dinner on the 2nd evening (or 1st upon choise). Price for 2 persons, with a minimal stay of two nights 6,790 SEK (based on two nights in the south room, regular season). Daily from June 10 to August 31 and outside this period on Fri-, Satur- and Sundays. From November to April applies winter paddling.
Nordströmmarna in authentic Bohuslän waters that are part of the North Sea, you paddle between hardwood forests and nature reserves, from Gullmarn to Koljöfjorden. You will also chop some wood and have lunch and coffee somewhere along the way. Wednesdays, June 24 through August 26, 1.300 SEK p/p, other days possible with at least 4 people.
Paddle with seals, in the Havstensfjord the water is often calm, the fjord is protected from the west winds of Orust. Great chance to meet seals in the fjord, eider ducks, blue mussel farms, maybe a sea eagle, lunch and a coffee stop on an island along the way. Thursdays, June 25 through August 27, 1.500 SEK p/p, other days possible if at least 4 people.
3 days tour (2 nights)
The west side of Orust offers one of the coast's finest paddling areas. Here one glides among island gems like Mollön, Slubbersholmen, Måseskär and Hermanö. You are offered relaxing horizon feeling, seal spotting chances, sandy beaches and labyrinths of gneiss. You will also zigzag your way to some of Bohuslän's most charming and old fishing communities, like Gullholmen, Käringön and Mollösund. Lådfabriken is the ideal basecamp to discover the Skagerraks sea. Marcel and Johan take care of your room, brekfast, lunch and dinners. Dates upon request, 8.000 SEK p/p, minimally 4 persons.
WINTER PADDLING (INCL. DINNER AND ACCOMMODATION)
---
---
Treat yourself to an extraordinary experience during late autumn, winter or early spring when you can be almost alone in the archipelago. In cooperation with Balanspunkten, you paddle south through the unique archipelago from the island Skaftö to the island Orust.
2 days tour (1 night)
You meet up in Grundsund for coffee and a review of the day. Get dressed with a dry suit, launch the kayaks in the water and carry off to Edshultshall. Christina guides while the day is bright and you will land ashore in the afternoon where Johan & Marcel await you. With a campfire, some grillling and mulled wine. After a shower, a three course fish menu made of local ingredients is served and you sleep in one of the cozy rooms. The next day, after breakfast, you can hike, eat lunch and be taken by fishing boat back to Grundsund on Sunday afternoon.
January 15 and 22 or February 5, 12 or 19. Costs 4.545 SEK p/p includes paddle equipment, guide, lunch, bonfire, dinner, accommodation (shared double room), breakfast & lunch at Lådfabriken, pickup by boat (or paddle back if group agrees). FYI: Winter paddling – the equipment.
3 days tour (2 nights)
Lådfabriken is worth staying longer and winter paddling is so wonderful that a trip back to Grundsund will be a nice closure of the weekend.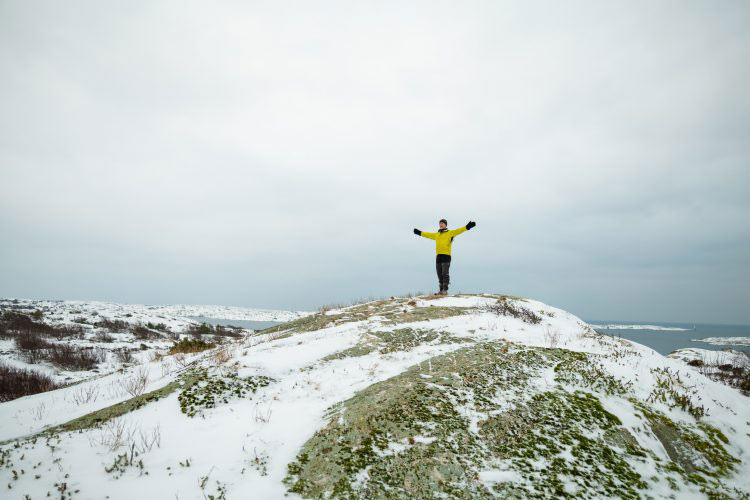 We do the same as above but let Saturday be a full day in Edshultshall; staying up long, slow breakfast, enjoying the beauty of winter on land, cozying in, take a sauna and eat well. Sunday will be a trip north in the kayak where winter at sea may surround you again.
Dates: January 21&22, February 4&5, 11&12, 18&19 Costs 7,590 SEK p/p includes paddle equipment, guide, lunch, bonfire, 2 dinners, 2 nights accommodation (shared double room) + breakfast, lunch at Lådfabriken, paddling tour back with a lunchpack. FYI: Winter paddling – the equipment.