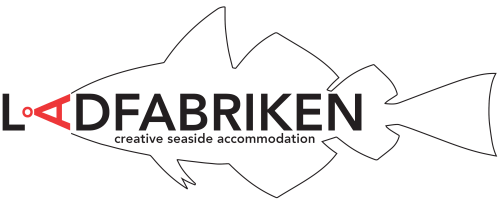 Lådfabriken 
-creative seaside accommodation- Sollid 398 47494 Edshultshall Zweden   Johan Buskqvist & Marcel van der Eng +46 304 52100 info@ladfabriken.eu
Travel information
Edshulltshal is located between Hälleviksstrand and Mollösund and about 80 km north of Gothenburg and about 250 km south of Oslo.
The best way to get to Edshultshall by car is by using the main highway E6 – also known as The Scandinavian link – connecting Oslo to Gothenburg and Copenhagen. There are exits to Orust from both the north and south side. Follow signs road 160 towards Tjörn / Orust, signs road 178 Tegneby, follow direction Mollösund, when reaching the coast, we are at your right hand side.
Or with public transportation with the help of travel planner of Västtrafik .
If you take a flight you may consider the following airports from where you can start your trip in a rental car.
–
Gothenburg Landvetter Airport
at 100 km –
Moss Airport Rygge
(Norway) at 190 km –
Oslo Airport Gardermoen
(Norway) at 300 km –
Copenhagen Airport Kastrup
(Denmark) at 380 km –
Stockholm Arlanda Airport
at 510 km