Biking (5 meters)
Close to our place there is a road that takes you to many surprising destinations on the island and beyond. we have 4 bicycles that are free of use when available.  If you like organized tours, other than our pedal packages, look at 'Orust Runt', more than 40 editions of organized tracks (20, 40, 80 or 110 km ) around the island.
Running (5 meters, 10 km)
From our B&B you can start running, we have the right circuit for you (5, 8, 15 or 18 km). Otherwise join the yearly run, Hermanö Varvet, on Hermanö island. In the middle of the archipelago you run 3,5 km over asphalt and 6.5 km over gravel. Enjoy even rougher terrains? Try Orust Tvärs, a run of 27 km on harsh terrain in September.
Swimming (30 meters and 900 meters)
The seashore at Lådfabriken starts shallow and many children have learned to swim in these waters. There are a variety of areas for swimming. Beautiful sandy beaches, small isolated coves and sun warmed shiny smooth cliffs dot the landscape. There are also remote cliffs for those who want to enjoy the peaceful solitude. In Edshultshall you can find a swimming island 'Jensholmen' within walking distance of 900 meters.
Kayaking (30 meter and 9.6 km)
From Lådfabriken it is easy to put your own kayak in the water. Glide silently through the water in a kayak, enjoy the midnight sun, spot seals and soak up the spirit of the sea. You can kayak anywhere you want to, moor it on an island and make your own private retreat. There is a rental company based nearby in Stocken, they also do guided tours for groups. If you enjoy a friendly challenge, join the annual Orust Round Race, 2 days of 50 km with an overnight stay on Vallerö, an island in the archipelago 'in front' of our house.
Fishing (30 meter)
For all fishermen; the waters here are a year-round resource. The diversity of fishing is huge. You can try fishing both from rocks on the shore and from a boat. But you may just as well enjoy crab fishing from the peer with the whole family.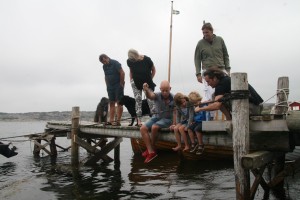 The sea trout fishing season starts on April 1. Mackerel comes in numbers in June. Sometimes both mackerel and garfish are so close to shore that you can easily reach them with the fly or spin rod. Lobster fishing starts on the first Monday in September each year at 07:00, a must for every lover of adventure and fine dining!
Sailing boat (2 km and 6 km)
The sailing season in Sweden is July-September and darkness falls for just 3 hours a day in high summer. So there is almost constant daylight as you sail these waters. Traveling in a private boat? Drop anchor at the guest harbor of Edshultshall Latitude: N 58º 6 25.2 Longitude: E 11º 27 57.24
Horseback riding (6 km)
Sweden boasts a deeply rooted tradition of high quality horse management and breeding and strict regulations regarding animal welfare. It's a formula for healthy, happy horses and horse-mad Swedes. Enjoy the countryside on horseback on north Swedish horses from Dahlegård.
Golf (11 km and 36 km)
Enjoy the beautiful scenery from the smooth greens of Orust Golfklub, never far from the sea. In summertime the course is often dry and hard, like the ones of Scotland. The proximity to the sea makes the wind a factor to be reckoned with. It's a par 72, 5 856,30 yards. With an easy par five to start off your round, you will relax and enjoy the rest of your game.  Also try the greens on the adjacent island Tjörn
Hiking
From our house you can start your walking journey into the in-lands. We can point out diverse walking routes to villages, vistas, beaches and forests. You can also look out for the marked trails, like:
Orust Tvärs (across Orust) is a 40 km trail across the island of Orust. From Svanesund in the east, to the islands Flatö and Ängö in the northeast. During the hike you may find 64 signs with cultural and natural keepsakes.
Pilgrims trail follow the 80 km trail, shaped like a loop, connecting the eight churches on Orust and marked with the St. Olaf's sign.
On Hermanö that you reach by ferry and located at 10 km from our house, you may find one of Sweden's biggest natural parks; here you may also find several hiking tracks.
Climbing ( 52 and 80 km)
Solid granite, soft lines and stunning coastal vistas make rock climbing in Bohuslän world class. You'll find the clean hard surfaces offer plenty of challenges for both beginners and experts. Upplevelsebolaget in Uddevalla offers introductory courses and real climbing at Lill-Knipen with spectacular views while preparing for the ascent. Klattertorpet in Brastad offers several courses and guided climbings.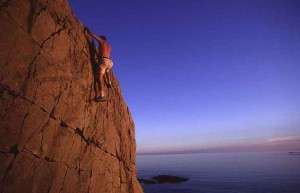 Worthwile visiting outside Orust
Here you may find over 100 fascinating sea creatures in 40 different aquariums. Touch starfish, crabs and hermit crabs in the touch pool, watch sharks, rays and congers swim above your head in the tunnel aquarium.
Meet endangered animals in a magnificent setting alongside Åby fiord in Bohuslän. Around 80 species like tiger, leopards, wolves, lynxes and old native breeds, birds and amphibians.
The second largest city in Sweden has an atmosphere of easygoing genuineness. It has a strong cafe culture and a big variety of clothing and designer boutiques all within 15-minute walking distance of each other. In Gothenburg, seafood is religion. The city is proud of its fishing heritage and the locals are serious about their shrimp, crayfish, lobster and oysters. Gothenburg is one of Europe's leading food cities.
At Tanum people from the Bronze Age have carved thousands of images into the smooth rocks of the landscape. This pictorial treasure is so rich in content and so distinctive that it is among the world's cultural heritages on the Unesco World Heritage List.
Travel arrangements
If you are interested in an organized holiday in Bohuslän, including activities, lodging and travel, we refer to the travel arrangements 'Westcoast Travel' can offer you. Please send a mail with your initial ideas to marcel@ladfabriken.eu