Paddle package de luxe (3 days)
We invite you to enjoy an exclusive and active adventure on the sea, done in a special co-operation with Upplevelsebolaget.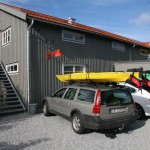 The west side of Orust offers one of the coast's finest paddling areas. Here one glides around among island gems like Mollön, Slubbersholmen, Måseskär and Hermanö. You are offered horizon feeling, seal spotting chanses, sandy beaches and labyrinths of gneiss. We also zigzag our way to some of Bohuslän's most charming old fishing communities, like Gullholmen, Käringön and Mollosund.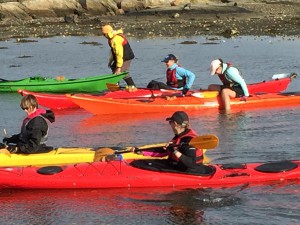 The base camp is our old fish box factory, Lådfabriken in Edshultshall, stylishly renovated to Bohusläns perhaps most charming hotel. At the end of the days of exploration, the kayaks are fast asleep on the beach outside the front door, while you wine and dine, tell stories, and look out towards Kråksunds gap and the horizon.
Price 5.900 SEK p/p, only bookable for  date TBC, other dates by arrangement for groups of at least 4 people. The price includes all necessary paddling equipment, all meals during the tour (breakfast and two course dinner at Lådfabriken, packed lunch during the paddling), two nights accommodation in a double room at Lådfabriken. Transportation to and from Edshultshall, as well as guidance and instruction. For more information and on-line booking please look at the website of Upplevelsebolaget or book directly with us.
Paddle Package (2 days)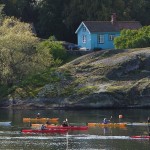 After a good night's sleep in our accommodation you will rise early in the morning to commence your trip over the islands Malön and Flatön and board a ferry twice. In Kärlingesund you will find that kayaking here is protected and calm, so if you are paddling for the first time this is the ideal location. The salty seawater here meanders its way between leafy islands and nature reserves, from the fiord of Gullmarn to the Koljöfiord. You pass along skerries, islets and narrow passages and circumnavigate the idyllic island of Bassholmen. You will dock and have lunch and coffee along the way. On your way back to home you may want to visit a restaurant in scenic Fiskebäckskill. You will definitely enjoy a good night's sleep after watching the sunset from our premises.
This trip is approved by Nature's Best which means that amongst others, some of the earnings is donated to the local nature conservation project, 8 fiords. Bookable in 2017 for every Wednesday in high season, between June 30 to August 25, 2.900 SEK p/p . Other days are possible for groups of at least 4 people.
Seaweed Package (2 days)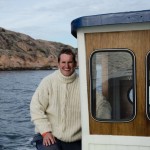 Start with a dinner in restaurant Bryggvingen, beautifully located between the cliffs of the island Lyr. After a good night's sleep and breakfast, you start a scenic car ride with incredible views and a ferry trip through the Gullmarn fiord. You will depart at 1.30 PM sharp in a wooden boat from Lysekil. It will take you to the mussel farm where mussels are grown and harvested. Then to one of the few oyster beds in Bohuslän. Pick oysters and learn everything connected to this delicacy, Ostrea Edulis. At Käringeholmen, a scenic island, you will cook the mussels and open the oysters before going back to Lysekil. Back in Lådfabriken you may want to end the day with a bath on Jensholmen, a small island just outside the village.
Bookable in 2017 for Thursday or Friday between March 1 and November 30, 2.900 SEK p/p in low season and 3.125 SEK p/p in high season, other days throughout the year are possible for groups of at least 6 persons.
Pedal package coast to coast (3 days)
Cycle across Orust from the west to the northeast coast and let the variation in landscapes mesmerize you. The cycling tour is of a recreational character with short slopes and gradients up to 100 meters. Some cycling experience is beneficiary however not necessary.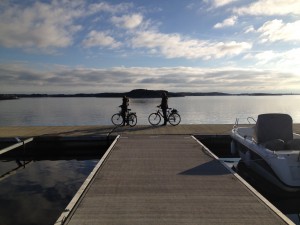 Day 1: Edshultshall – Nösund – Lyr – Edshultshall (32 km)
The sea and the cliffs, a ferry boat and a 3 course diner at Bryggvingen, beautifully located on the small island Lyr, stay at Lådfabriken (optional: boat taxi for you and your bikes from Lyr to Lådfabriken)
Day 2: Lådfabriken – Hälleviksstrand – Ellös – Henån – Slussen (36 km)
The fishermen villages, the coastline and the forests, stay at Slussens Pensionat with its legendary music club,where the best Swedish pop and rock artists play. Live music while you enjoy a 3 course diner
Day 3: Slussen – Myckleby – Stala – Nösund – Edshultshall (38 km)
inspiring inland tour along lake Grindsby, farmlands, amazing ocean views and an archeological site. Return to L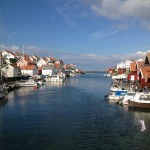 ådfabriken.
In 2017 bookable from April 30 to September 15 on Fridays on a daily basis between June 27 and August 13. Average price from 3.320 SEK p/p, incl. two nights stay, two diners, a music concert and a bicycle (plus helmet, map and cycle-bag).
 Splashing packages (incl. 1 overnight stay):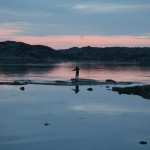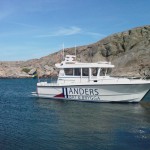 Enjoy your stay here and discover that the Bohuslän coast offers an abundance of great sea fishing opportunities and deep water angling straight from the rocky shoreline. Fishing in the coastal waters of the archipelago, is an angler's dream. Let Anders, of Anders Båt & Brygga, take you and try your luck fishing for catfish, cod, hake, mackerel, garfish and sea trout in the Skagerrak Sea. The west coast is particularly famous for its seafood, so we also offer a lobster fishing tour. Otherwise, enjoy some fresh seafood on Käringön, Sweden's westernmost island two kilometers out from the coast, at  'Petersons Krog' or the 'Karingo Oysterbar'
– Kreeft vangen –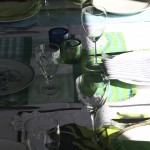 Kreeft vissen in Zweden begint ieder jaar op de eerste maandag na 20 september om 7 uur in de ochtend. Het vissen naar, vangen en zelfs het voorbereiden van een maaltijd van dit 'zwarte goud van de zee' is uniek te noemen. Een onverslaanbare ervaring van wereldklasse die hier in Bohuslän, bij ons te beleven valt.
Trek je warme kleren en een paar goede schoenen aan om samen met schipper Erland het Skagerrak te gaan bevaren. Scheep je in op de "Angola", de 36-voet vissersboot voor een 2,5 tot 3 uur durende boottocht. De boot bevindt zich in hetzelfde dorp als Lådfabriken en je krijgt een warm veiligheidspak, rubberen handschoenen en een reddingsvest. Haal de kreeftenfuiken op, maak ze leeg en leer meer over de kreeften visserij. Dagelijkse afvaart, vanaf 28 september tot en met 16 november. Te boeken in combinatie met een overnachting in Lådfabriken, vanaf 1.425 SEK p.p.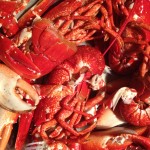 Combineer je de boottocht met een vingerlikkend lekker kreeft souper diezelfde avond dan kost het pakket vanaf 2.525 SEK p.p. Wil je genieten van meer zoute winden in je gezicht? Boek een extra nacht voor de boottocht. 's Avonds met een driegangen vismenu en twee keer wakker in de Lådfabriken.
Als je bij ons verblijft en wilt genieten van de kreeft souper, één van Lådfabrikens Food specials, zonder de boottocht, dan kost het vanaf 1.925 SEK  p.p.
(prijzen 2018 en gebaseerd op gedeelde zuid-kamer)
– Sea Fishing –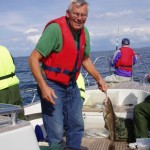 Stay one night in Lådfabriken and go out on the boat with Anders early the next day day. A three-hour trip includes instruction, use of life vest and fishing gear. You can also borrow rain pants if necessary. Upon return you will enjoy a marvellous fish soup in Mia's boathouse.
Bookable in 2016 on daily basis. Low season 1.600 SEK p/p, high season 1.675 SEK p/p Prices based on 2 persons in a double room. For the fishing tour to happen, minimally 4 persons should be on board, the maximim is 12 persons.
– Seal Safari –

The Bohuslän harbor seals favorite rocks lie out in the Skagerrak waters near the island of Käringön. The seals sunbathe on the rocks or stare at you as they bob their heads above the surface of the sea. Newborn pups can be seen at the beginning of summer. We offer a one hour boat trip that starts at 2 PM from Mia's Boathouse where you can enjoy a fresh coffee with homemade muffins either before or after the tour.
Price 150 SEK p/p, the boat leaves with minimally 6 persons in the afternoon during the whole summer, groups may contain max 12 persons.
SaveSave
SaveSave
SaveSave
SaveSave