---
Lobster Fishing
---
Come and stay with us during the lobster season, starting each year on the first Monday after the 20th of September at 07:00. Capturing lobster and preparing it is an unbeatable world-class experience here in Bohuslän. So put on your warm clothes and good shoes and embark on the 'Angola' of skipper Erland.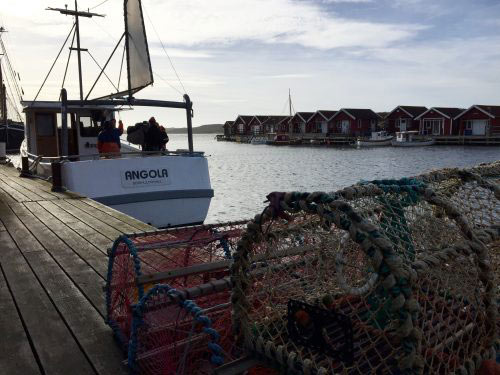 You can borrow security equipment and fishing trousers. You will help pull out the traps of the ocean, empty them, hold a lobster and thus learn how to fish the black gold of the sea. The boat departs daily from the steamboat dock in Edshultshall and the trip lasts 2.5 to 3 hours. This year, the first trip is September 24 and continues until the end of November. You sleep well and comfortably at Lådfabriken in one of the uniquely decorated rooms.
The lobster fishing package incl. accommodation costs around 1,500 SEK p/p*. If you combine the package with a finger licking four course lobster supper on the same day; around 2,600 SEK p/p*. You wake up late the day after and will be served a delicious breakfast. Do you want to enjoy more salty winds in your face: book one night extra before the boat trip, complete with a three-course fish menu in the evening and wake up twice at the Lådfabriken. Contact us or book your trip here.  (*based on shared double room)
Or stay with us and enjoy a lobster supper. This lobster adventure costs 1400 SEK p/p on top of the room price. Look here for more information.
---
Winter paddling (incl. dinner and accommodation)
---
Treat yourself to an extraordinary experience during late autumn, winter or early spring when you can be almost alone in the archipelago. In cooperation with Balanspunkten, you paddle through the unique archipelago from the island Skaftö to the island Orust.
We meet in Grundsund on Skaftö at 8.30 AM, it starts with coffee and a review of the day. Then you get dressed up with a dry suit, you launch the kayaks in the water and carry off to Edshultshall, where Lådafbriken awaits you. See here how the kayaking  can be during the winter.
We start our winter paddling with a special: Lucia paddling!
Lucia paddling (December 13 and 14)
With glitteron your cap, you leave on Friday, December 13 and paddle through Bohuslän's beautiful winter coast. Upon arrival at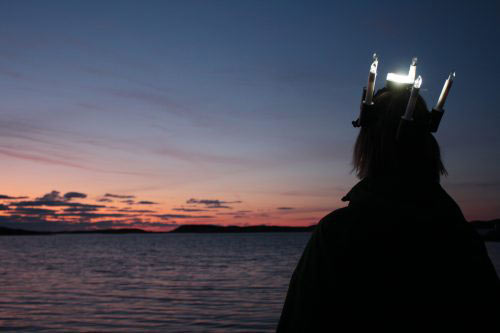 Lådfabriken you will meet the darkness with a bonfire, mulled wine and a light barbecue on the beach. Later, the three course fish dinner is ready on a beautiful table for you to fully enjoy. The glitter sparkles happily on through the long night where you sleep in one of our originally decorated rooms and Saturday is filled with tranquility with a colorful breakfast. If you wish, you take a trip back in the kayaks. Otherwise you will be picked up by Bobbo from Grundsund and with his fishing boat you will return to Skaftö at dusk. But only after you enjoyed a light lunch.
The price of SEK 2,950 p/p includes paddle equipment, guide, lunch, bonfire, dinner, accommodation, breakfast + lunch at Lådfabriken, pickup by boat/ back paddling.
A luxurious weekend in a desolated archipelago
(Saturday 11, 18 January & 1, 8, 15, 22 February)
Paddle south from Skaftö, eat from the delights of the sea and sleep over with us. Take a shorter, or longer trip on foot on Sunday, have lunch and be picked up by a fishing boat back to Grundsund on Sunday afternoon. Treat yourself to an extraordinary experience during winter and early spring when you are almost alone in the archipelago. It's luxurious emptiness….
Christina Ingemarsdotter guides you south and you will paddle while the day is bright and you will land ashore in the afternoon after a lovely and beautiful canoeing. Nature's spectacle provides the conditions. Here you will eat a three course fish menu made with local ingredients and sleep happily in one of our cozy rooms. The next day you can hike, eat lunch and be taken by fishing boat back to Grundsund on Sunday afternoon.
The price of SEK 4,050 p/p includes paddle equipment, guide, lunch, bonfire, dinner, accommodation, breakfast + lunch at Lådfabriken, pickup by boat.
Sleep 2 nights at Lådfabriken and paddle back to Grundsund!
-Friday 10, 17, 31 January & 7, 14, 21 February-
If the above is too short, we have put together a three-day package. Lådfabriken is worth staying longer and winter paddling is so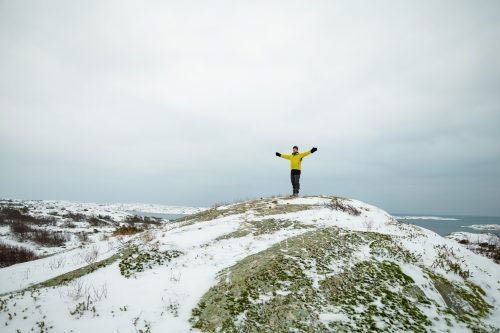 wonderful that a trip back to Grundsund will be a nice closure of the weekend. We do the same as above but let Saturday be a day in Edshultshall, stopping up, enjoying the beauty of winter on land, cozying in and eating well. Sunday will be a trip north in the kayak where winter at sea may surround us.
The priceof  SEK 6,950 p/p includes paddle equipment, guide, lunch, bonfire, 2 dinners (a three course fish menu and a menu with crayfish), 2 nights accommodation + breakfast, lunch at Lådfabriken, paddling tour back with a lunch.
Reservations are made upon request and availability. Please mail or call us on +46 304 52100 about the planned dates and special diet/ allergies.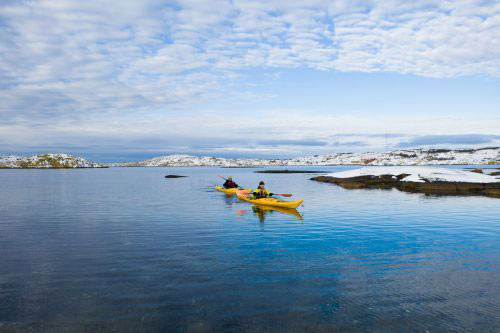 ---
YOGA & OUTDOOR RETREAT  May 1-5 and May 6-10 (4 nights, 5 days)
---
Yoga, meditation, healthy Ayurvedic food combined with local (sea-) food and outdoor activities in West-Sweden's nature form the basis for an energising small scale workshop that Lådfabriken offers. Together with Daniela Dörflinger-Bruggeman we will host you during this retreat. Exact dates to be announced.
Nature is all around and offers peace and quietness, big open skies and the vastness of the sea nearby. Plenty of space to explore nature and yourself in the peak bloom period May. Cleanse and purify your body with pure air, clean seawater and nourishing vegetarian food.
We offer a holistic, relaxed and varied program in an informal 'style'. A typical day looks like this: wake up and start the day with 
a natural power drink, morning session of energetic yoga, breakfast, outdoor activity, lunch, relaxation, cooking and dinner. A good night's sleep in one of the unique and creatively styled rooms. It includes exploring the beautiful countryside with guided activities that vary from hiking, biking, kayaking to a boat tour. Sometimes combined with outdoor yoga and lunch. May is the time that lilac and apple tree bloom and wild violets cover the islands in a purple glow. A sauna close to the seashore, meditations and an Ayurveda cooking workshop are also included in the program.
Price per person 8.400 SEK, this includes the following:
4 morning yoga sessions
4 guided outdoor activities
Fim evening and sauna
Ayurvedic cooking workshop
4 nights accommodation based on a shared double room
full board, we cook mainly with local products and offer vegetarian delicacies as well as local fish and seafood
soft drinks and fruits
airport transfer from and to Gothenburg Landvetter Airport or Gothenburg city
Mail us for inquiries info@ladfabriken.eu or book here 
---
Paddle package de luxe (2 nights, 3 days)
---
An exclusive and active sea-kayak adventure, in co-operation with Upplevelsebolaget, Bohuslän's coolest outdoor company. The west side of Orust offers one of the coast's finest paddling areas. Here one glides among island gems like Mollön, Slubbersholmen, Måseskär and Hermanö. You are offered relaxing horizon feeling, seal spotting chances, sandy beaches and labyrinths of gneiss. You will also zigzag your way to some of Bohuslän's most charming old fishing communities, like Gullholmen, Käringön and Mollösund.
Lådfabriken is the ideal basecamp to discover the Skagerraks sea. At the end of the days of exploration, the kayaks remain on the beach outside, while you wine and dine, tell stories and look over the horizons of Kråksunds gap.
Price 7.500 SEK p/p, this includes all equipment, all meals during the tour (breakfast and two course dinner at Lådfabriken, packed lunch, drinks and energy boosts during the paddling), two nights accommodation in a shared double room, guidance and instruction.
June 3-6 2019. Other dates upon request, minimally 4 persons. Book here or look at the website of Upplevelsebolaget.
"What a Fantastic Weekend!! Thank you so much for looking after us this weekend – we had such a great time. It was challenging enough for us so we felt a real buzz of achievement, but still left us wanting to go out again each day. The food during the trip was excellent and lots of chocolate (always a treat). The accommodation was really very special, and Marcel and Johan are a delight. Their cooking and table setting are magnificent, and I'm buzzing with interior design ideas. Altogether an amazing trip and i've learnt so much – thank you!" Jonna Rogers, England
---
 Pedal package coast to coast (3 days)
---
A three-day cycling package takes you across Orust from the west to the north-east, partly along the Bohuslän coastline. Stunning west coast scenery, quiet country roads and a stay in Lådfabriken and Slussens Pensionat. Let the variation in landscapes mesmerise you, this tour is of a recreational character with short slopes and gradients up to 100 meters. Some cycling experience is beneficiary however not necessary.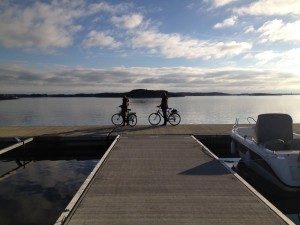 Day 1: Edshultshall – Nösund – Lyr – Edshultshall (32 km)
The sea and the cliffs, a ferry boat and a 3 course diner at Bryggvingen, beautifully located on the cliffs of the small island Lyr, stay at Lådfabriken (optional: boat taxi for you and your bikes and a tour through the archipelago from Lyr to Lådfabriken)
Day 2: Edshultshall – Hälleviksstrand – Ellös – Henån – Slussen (36 km)
The fishermen villages, the coastline and the forests, stay at Slussens Pensionat with its legendary music club, where the best Swedish pop and rock artists play. Live music while you enjoy another 3 course diner (optional: lunch bag, luggage transportation)
alternative route: Lådfabriken – Hälleviksstrand – Malö– Flatön –Vindön – Slussen (52 km)  The ferries to the islands (Malö and Flatön and back to the mainland to Dragsmark's monastery) back to Orust via Vindön and through the forest to Slussens Pensionat.
Day 3: Slussen – Myckleby – Stala – Nösund – Edshultshall (38 km)
inspiring inland tour along lake Grindsby, farmlands, amazing ocean views and an archeological site. (optional: lunch)
Bookable between May 5 to September 15. Average price from 3.700 SEK p/p, based on a shared room, incl. two nights stay, two diners, a music concert and a bicycle (plus helmet, map and cycle-bag). Contact us if you are interested in this package.
---
Boat packages
---
Enjoy your stay here and discover that the Bohuslän coast offers an abundance of great sea fishing opportunities and deep water angling straight from the rocky shoreline. Fishing in the coastal waters of the archipelago, is an angler's dream. Try your luck fishing for catfish, cod, hake, mackerel, garfish and sea trout in the Skagerrak Sea. The west coast is particularly famous for its seafood, that's why we also offer a lobster fishing tour and seafood diners.
Sea fishing: stay one night in Lådfabriken and go out on a boat early the next day day. A three-hour fishing trip includes instruction and use of life vest. Fishing gear can be arranged.
Crab fishing: this two hour fishing trip can be done in the months June, July and August.
Seal safari: stay a night over and board for 1,5 hours to where the Bohuslän seals favorit rocks lie; out in the Skagerrak waters near the island Käringön. The seals sunbathe on the rocks or stare at you as they bob their heads above the surface of the sea. Newborn pups can be seen at the beginning of summer.
SaveSave
SaveSave
SaveSave
SaveSave
SaveSave
SaveSave
SaveSave