---
Lobster Fishing
Come and stay with us during the lobster season, starting each year on the first Monday after the 20th of September at 07:00. Capturing lobster and preparing it is an unbeatable world-class experience here in Bohuslän. So put on your warm clothes and good shoes and embark on the 'Angola' of skipper Erland.
You can borrow security equipment and fishing trousers, you will help pull out the traps of the ocean, empty them, hold a lobster and learn how to fish the black gold of the sea. The boat departs daily from the steamboat dock in Edhultshall and the trip lasts 2.5 to 3 hours. This year, the first trip is on Friday, September 28 and continues until November 16. You sleep well and comfortably at Lådfabriken in one of the uniquely decorated rooms.
The lobster fishing package incl. accommodation costs from 1,425 SEK p/p. If you combine the package with a finger licking four course lobster supper on the same day; from 2,525 SEK p/p. You wake up late the day after and will be served a delicious breakfast with sea views. Do you want to enjoy more salty winds in your face: book one night extra before the boat trip, complete with a three-course fish menu in the evening and wake up twice at the Lådfabriken.
You can also stay with us and enjoy the lobster supper as a Food special, without the boat trip; from 1.925 SEK p/p (based on shared double room). Contact us or book your trip here.
---
---
Paddle package de luxe (3 days)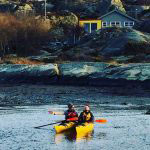 An exclusive and active sea-kayak adventure, in co-operation with Upplevelsebolaget, Bohuslän's coolest outdoor company. The west side of Orust offers one of the coast's finest paddling areas. Here one glides among island gems like Mollön, Slubbersholmen, Måseskär and Hermanö. You are offered relaxing horizon feeling, seal spotting chanses, sandy beaches and labyrinths of gneiss. You will also zigzag your way to some of Bohuslän's most charming old fishing communities, like Gullholmen, Käringön and Mollosund.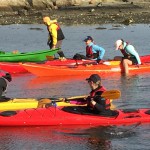 Lådfabriken, the former  fish box factory, is an ideal basecamp to discover the Skagerraks sea. At the end of the days of exploration, the kayaks remain on the beach outside, while you wine and dine, tell stories and look over the horizons  of Kråksunds gap.
Price 6.400 SEK p/p, on September 22 – 24 we accept individual bookings. Other dates by arrangement for groups of at least 4 persons. The price includes all necessary paddling equipment, all meals during the tour (breakfast and two course dinner at Lådfabriken, packed lunch, drinks and energy boosts during the paddling), two nights accommodation in a double room, as well as guidance and instruction.
"What a Fantastic Weekend!! Thank you so much for looking after us this weekend – we had such a great time. It was challenging enough for us so we felt a real buzz of achievement, but still left us wanting to go out again each day. The food during the trip was excellent and lots of chocolate (always a treat). The accommodation was really very special, and Marcel and Johan are a delight. Their cooking and table setting are magnificent, and I'm buzzing with interior design ideas. Altogether an amazing trip and i've learnt so much – thank you!" Jonna Rogers, England
For info and on-line booking, look at the website of Upplevelsebolaget or contact us.
---
Paddle Packages (2 days)
We offer a choice between two fantastic paddle tours that get the best out of a day on Bohuslän's salty waters. Either in the fjord of Nördströmmar or in the Havstensfjord.
Day 1 – checking in Lådfabriken is located 30 meters from the Skagerrak beach. Enjoy a fantastic sea view from our yellow "light room". Do you want to start training for the next day? We have sea kayaks!
Day 2 – paddle out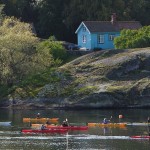 Day trip around Bassholmen: an early rise to enjoy a delicious breakfast and to begin the journey over Malo and Flatön islands, with two ferry trips included. The west coast water here meanders its way between leafy islands and nature reserves, from the Fjord of Gullmarn to the Koljöfjord. Kayaking is protected, you pass along skerries and islets and narrow passages and circumnavigate the idyllic island of Bassholmen, with bird sanctuaries, summer grazing stallions and quaint old historic buildings. You will of course, make a landing for lunch and coffee somewhere along the way.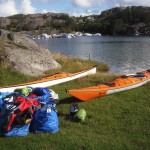 Kayak with Seals: for this trip you will also enjoy an early breakfast before driving to Uddevalla to meet free animals in their natural habitat. From the cockpit of a kayak it's an unforgettable peaceful journey to the seals' home. The Havstensfjord is protected from westerly winds by Orust and we can usually quietly slide around and look for the fjord's natural inhabitants. It is Sweden's eider densest area, partly thanks to the mussel farms spread out on the water. You will have a nice lunch and coffee break on an island along the way.
Day 3 – Continue your journey Enjoy a delicious breakfast in our cozy kitchen with seasonal fruits and berries from our garden. A good occasion to visit one of the many charming fishing villages in our area, or take the ferry boat to Härmanö or Käringön.
A two-day package, including two overnights, packed lunch, coffee and sweets on the go and a guided kayak trip with all the necessary equipment. Bookable for every  Tuesdays (day trip around Bassholmen on Wednesday) and for every Wednesday (day trip Kayak with Seals on Thursday) between June 28 to August 31, 2017.  Other dates are possible for groups of at least 4 people.
Price Day trip around Bassholmen from 2,800 SEK/ person, price Kayak with Seals from 3,000 SEK/ person.  Last trips in off-season: 200 SEK/ person less. Prices based on a shared double room (south room). For more information and bookings please contact us directly.
---
 Pedal package coast to coast (3 days)
A three-day cycling package takes you across Orust from the west to the north-east, partly along the Bohuslän coastline. Stunning west coast scenery, quiet country roads and a stay in Lådfabriken and Slussens Pensionat. Let the variation in landscapes mesmerize you, this tour is of a recreational character with short slopes and gradients up to 100 meters. Some cycling experience is beneficiary however not necessary.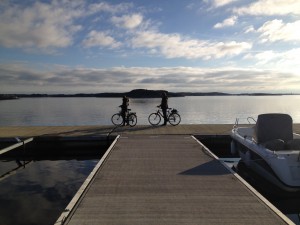 Day 1: Edshultshall – Nösund – Lyr – Edshultshall (32 km)
The sea and the cliffs, a ferry boat and a 3 course diner at Bryggvingen, beautifully located on the cliffs of the small island Lyr, stay at Lådfabriken (optional: boat taxi for you and your bikes and a tour through the archipelago from Lyr to Lådfabriken)
Day 2: Edshultshall – Hälleviksstrand – Ellös – Henån – Slussen (36 km)
The fishermen villages, the coastline and the forests, stay at Slussens Pensionat with its legendary music club, where the best Swedish pop and rock artists play. Live music while you enjoy another 3 course diner (optional: lunch bag, luggage transportation)
alternative route: Lådfabriken – Hälleviksstrand – Malö– Flatön –Vindön – Slussen (52 km)  The ferries to the islands (Malö and Flatön and back to the mainland to Dragsmark's monastery) back to Orust via Vindön and through the forest to Slussens Pensionat.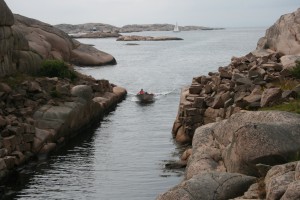 Day 3: Slussen – Myckleby – Stala – Nösund – Edshultshall (38 km)
inspiring inland tour along lake Grindsby, farmlands, amazing ocean views and an archeological site. (optional: lunch)
Bookable between May 5 to September 15, check-in only on Friday between May 5 – June 16 and August 18 – September 15, check-in on all days between June 29 – August 11. Average price from 3.420 SEK p/p, based on a shared room, incl. two nights stay, two diners, a music concert and a bicycle (plus helmet, map and cycle-bag). Contact us if you are interested in this package.
---
Boat packages (1 day):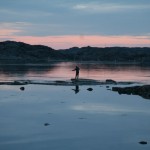 Enjoy your stay here and discover that the Bohuslän coast offers an abundance of great sea fishing opportunities and deep water angling straight from the rocky shoreline. Fishing in the coastal waters of the archipelago, is an angler's dream. Try your luck fishing for catfish, cod, hake, mackerel, garfish and sea trout in the Skagerrak Sea. The west coast is particularly famous for its seafood, that's why we also offer a lobster fishing tour and seafood diners off season.
Sea fishing: stay one night in Lådfabriken and go out on a boat early the next day day. A three-hour fishing trip includes instruction, use of life vest and fishing gear. You can also borrow rain pants if necessary, with sufficient participants (five) from 595 SEK p/p, excl. room price.
Crab fishing: this two hour fishing trip can be done in the months June, July and August. With sufficient participants (six) and ordered five days in advance, from 450 SEK p/p, excl. room price.
Seal safari: stay a night over and board for 1,5 hours to where the Bohuslän seals favorite rocks lie; out in the Skagerrak waters near the island of Käringön. The seals sunbathe on the rocks or stare at you as they bob their heads above the surface of the sea. Newborn pups can be seen at the beginning of summer. With sufficient participants (six) from 175 SEK p/p, excl. room price.

SaveSave
SaveSave
SaveSave
SaveSave
SaveSave
SaveSave
SaveSave